Ted Newbold, 88, Society Hill urban pioneer and civic leader
Ted Newbold, 88, an urban pioneer in Society Hill before it became fashionable, died Tuesday, Aug. 7, of complications from Lewy Body dementia and Parkinson's disease at his home in Old City.
Mr. Newbold's first job was at the Old Philadelphia Development Corp., where he helped convert the rundown Society Hill neighborhood into an area of elegant rowhouses.
A descendant of Nathan Trotter, an early Quaker businessman, Mr. Newbold worked as a broker in the 1950s at Nathan Trotter & Co., the family's metal-products company, founded on Front Street in 1789.
He never tired of his neighborhood's culture and history, but his choice of residence made for some interesting party chatter.
When he and his second wife, Helen Cunningham, invited friends to their rehabbed Old City rowhouse in 1984, eyebrows went up.
"This can't be where you live. The buildings around here are all warehouses,"  Cunningham said they remarked.
Mr. Newbold was serious about rehabbing his colonial-era rowhouse. He and his wife added a wing and filled it with Guatemalan art from their travels. He salvaged architectural artifacts from old buildings for his backyard garden.
"He built the garden stone by stone and plant by plant," his wife said.
Mr. Newbold was known to most people as Ted or Teddy. Born in Flourtown, he graduated from Westminster School in Connecticut, and graduated with a degree in art from the University of Virginia.
That interest in art occupied Mr. Newbold throughout his life and led to numerous leadership roles in Philadelphia's civic community. He helped save the architect Louis Kahn's archives, now at the University of Pennsylvania, and he chaired the restoration of the painter Thomas Eakins' house in the Fairmount section of the city.
He was a longtime president of the Philadelphia Award board of trustees and chair of the Mayor's Committee on the Civic Center Museum Collection. He was chair of the Art Commission of Philadelphia in the 1980s and 1990s, and a 50-year trustee of the Philadelphia Museum of Art.
He was a board member of the Philadelphia Historic Preservation Corp., the Pennsylvania Academy of the Fine Arts, the Greater Philadelphia Community Development Corp., the Old City Civic Association, and the Fleisher Art Memorial.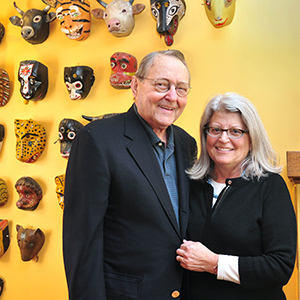 Ted Newbold and his wife, Helen Cunningham, with a collection of masks from Guatemala.
His favorite volunteer post, though, was with the Association for Public Art (formerly the Fairmount Park Art Association), where he served on the board for 52 years, ending earlier this year. The organization strives to put innovative art in public spaces.
Mr. Newbold was responsible for the professionalization of the Association for Public Art, hiring administrator and art expert Penny Balkin Bach as its executive director and chief curator.
"For Ted, the world was not a straight line, it was an open, exciting place where every door had something new behind it," Balkin Bach said. "That's very rare. Ted stood behind our work and helped us position ourselves over these many years."
He worked alongside the sculptors Jody Pinto, Isamu Noguchi, and Martin Puryear to create works of art for public spaces.
Starting in the 1960s, when he was in his 30s, Mr. Newbold was one of the founders of the Friends of the Philadelphia Museum of Art. The Friends broke new ground by attracting future leaders from diverse backgrounds.
Mr. Newbold was a dedicated collector of photographs; walking sticks; and Guatemalan masks, slingshots, and textiles.
Mr. Newbold and his wife opened their home to visiting artists such as Jeanne vanHeeswijk, who ran the three-year Philadelphia Assembled project on art and civic issues for the Art Museum; José Roca of Philagrfika, a printmaking project; and Georgiana Ferrandi and Miguel Luciano, artists-in-residence at the Fleisher Art Memorial.
He enjoyed classical music and opera. He liked to watch Flyers and Eagles games with his daughter, Daisy Konowal.
In 1959, Mr. Newbold married Deborah Dilworth, daughter of former Philadelphia Mayor Richardson Dilworth. They divorced in 1981. She survives.
In 1984, he married Cunningham. They thought of themselves as parents to five children: Bill, Daisy and Noel from his first marriage; Jake deShong from Cunningham's first marriage; and Azra Hromadźič, a student they took in during the war in Bosnia-Herzegovina.
"From this yours, mine and ours group," the couple liked to say, came four grandchildren.
Mr. Newbold is also survived by a sister, Anne Godfrey.
The family will have visiting hours at home from 4 to 7 p.m. Tuesday, Aug. 14, and Wednesday, Aug. 15. Burial is private.
Memorial donations may be made to the Association for Public Art via or the Prints, Drawings and Photographs Department at the Art Museum via .
Categories: Uncategorized